The "Pizza Challenge"
In September, we joined the German volunteering group Blickwinkel Diabetes for a community weekend by the Baltic Sea. Whether diagnosed for 2 weeks or 20 years – we all share the daily challenges of living with type 1 diabetes. But we at meala think we should also challenge our diabetes! That's why we launched the "Pizza Challenge" during the weekend and accompanied it with a study.
The Background
We all know how challenging pizza can be for blood sugar management. Because of its high fat content, it often triggers a real blood sugar roller coaster. Many people with diabetes therefore tend to avoid pizza. But we at meala think: pizza is far too delicious to do without! Often it just takes a little "learning by doing" with type 1 diabetes to figure out the right management for yourself. That's why we all evaluated our individual pizza management together. Before coming together for the weekend, we had all individually eaten a pizza and estimated its carbohydrates. On site, we finally exchanged our experiences and ate the same pizza again. The learnings from the first pizza – tracked with our app meala, of course – allowed us to evaluate and optimize our pizza management.
Citizen Science: A Bridge between Community and Research
Our app is primarily intended to support people with type 1 diabetes in their daily blood glucose management. But this everyday management can also be very significant for research – 42 different factors can influence blood glucose and in everyday life the challenges often look different than in clinical trials. With our Pizza Challenge, we therefore created a synergy between community and research: While the participants optimized their pizza management for themselves, we analyzed and studied their management thanks to linked questionnaires and Dexcom G6 CGM data. The question: Do meal tracking with meala and the peer support of the community weekend influence the blood glucose management of the participants?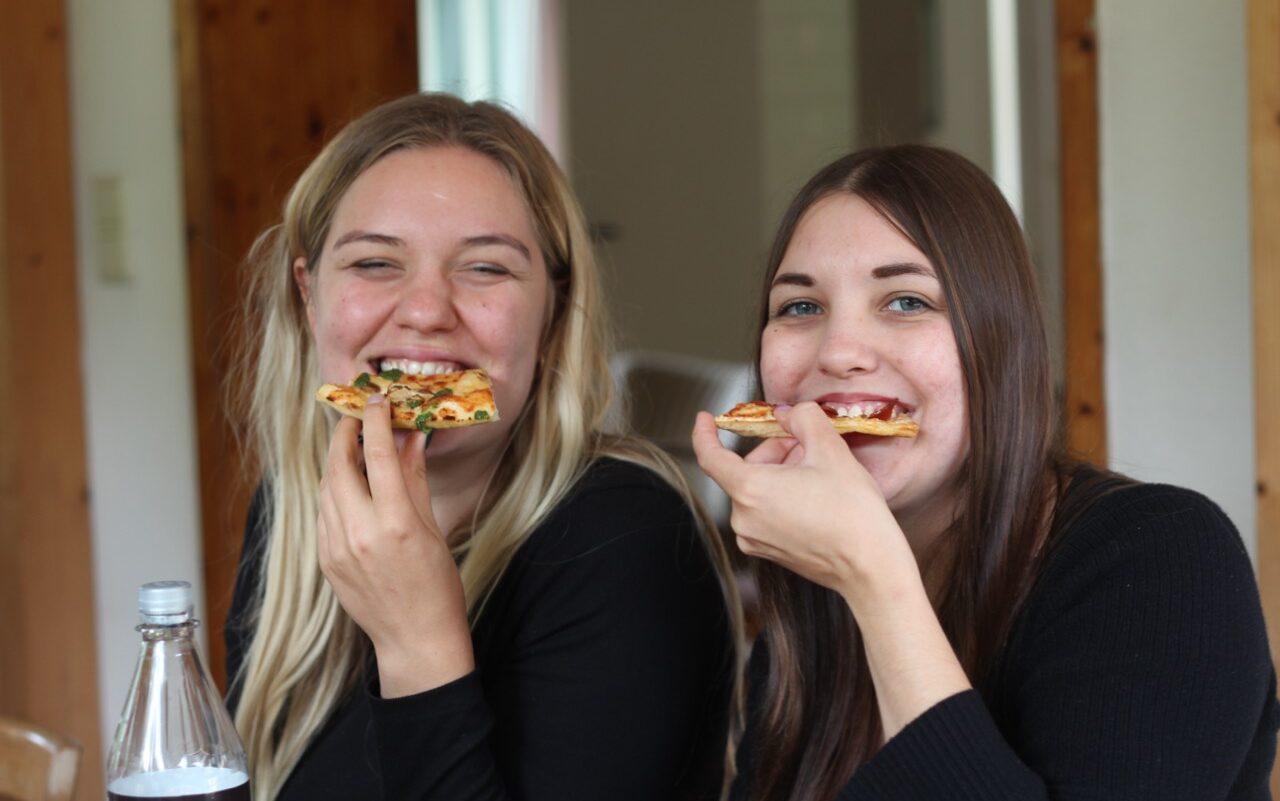 The Results
Overall, the carbohydrates of the pizza were underestimated by the participants. On average, they estimated 79.73 g in the first round and 89.2 g in the second round – thus by tracking with meala, it was possible to learn from the first pizza and optimize the carbohydrate estimation, as the actual carbohydrate content was 95 g. In 10 of the 15 participants an improvement of the blood glucose values (measured by Dexcom G6 CGM) could be achieved, while the values of 2 participants hardly changed and the values of 3 participants showed a deterioration. Overall, we were able to show that repeated tracking of the same meal can improve diabetes management, especially when combined with peer support. Some participants emphasized that by recording their estimate and data in meala, they felt confident to deliver the proper amount of insulin for the second pizza, which they had not delivered in the first round due to fear of hypoglycemia. Our results support the call to provide better support for people with type 1 diabetes in their daily lives. After all, diabetes management takes place in one's own everyday life 24/7 as opposed to in the doctor's office!
Want to know more about the study? See below the poster we published at this year's ATTD (Advanced Treatments & Technologies for Diabetes):